Introduction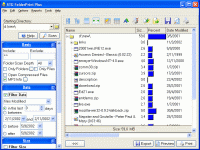 Print and visualize your folders. Find out where your HD space went. Document your project folders!
This is all easy to do with STG FolderPrint Plus, the easiest way to organize your HD and print or save your folders.
Some of the current features:
Allows you to print and visualize large numbers of folders and files.
Fast!
MP3 support - length and ID3 columns
View (and print) the file lists inside your compressed files
Output is highly graphical, including file type icons and the folder hierarchy.
Filter by as many file masks as you want (include or exclude), dates, file sizes or content.
Go down your folder structure as deep as you want.
Sort by any column, you can also remove or reorder them to get the exact look you want.
The print-out design is highly configurable, you can choose colors, backgrounds, headers, footers, title, etc.
File Versions for EXEs and DLLs.
Print your Favorites with the URL extract option.
Export to HTML, Excel, CSV,JPG, PNG or text.
Multiple File Rename.
Reports: File Type Report, Compact Output.
To get started, go to Using STG FolderPrint Plus
Copyright 2001-2015 Luiz A D R Marques